With £400 pounds in his pocket, Mark Devlin left Scotland for the Far East. So how did he get from there to being publisher of one of his adopted home's prominent English language publications? Billy Adams reports.
Reprinted with permission from Business A.M. 
Scottish Business and Finance newspaper (now out of print)
December 11, 2002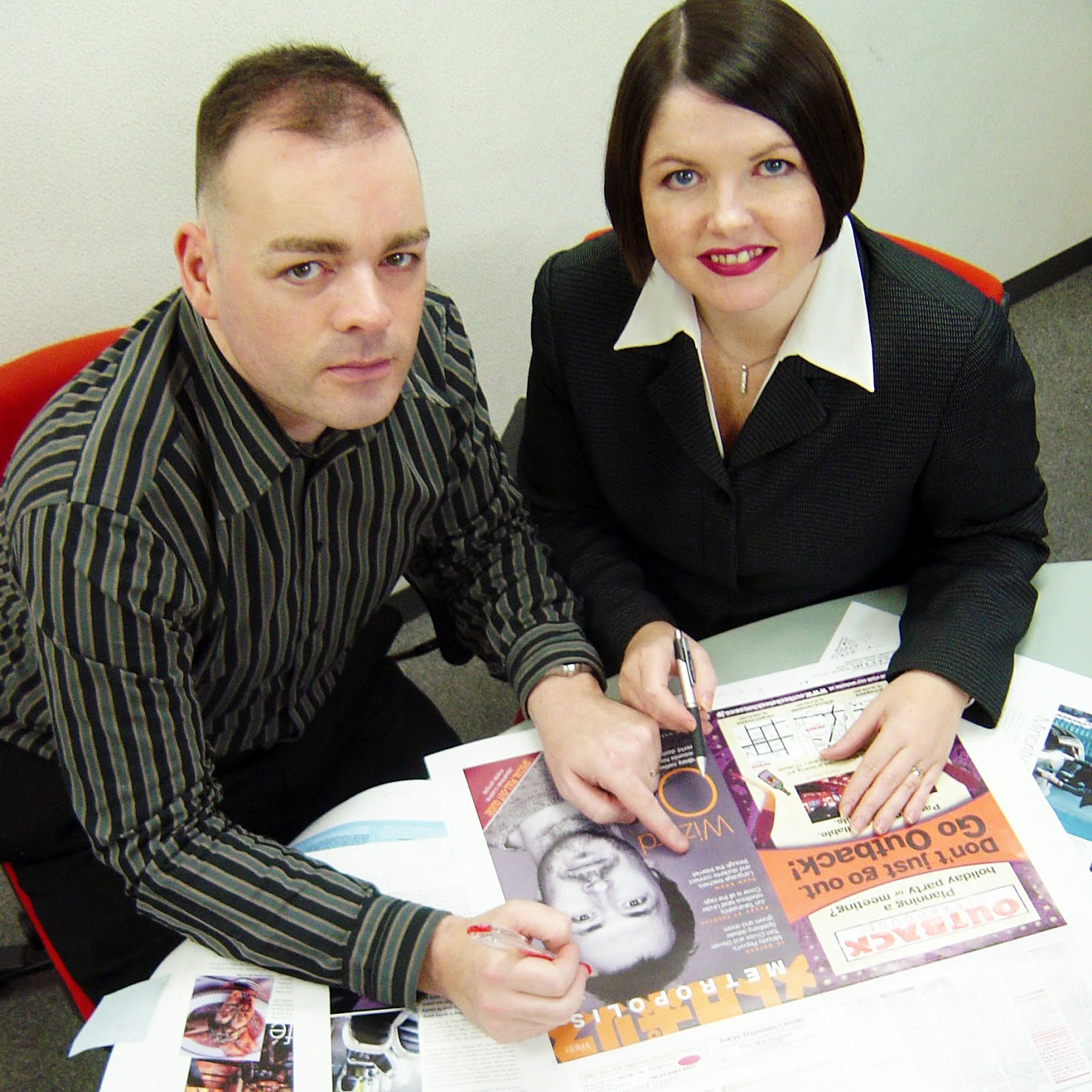 It all started with a bunch of clapped-out tape recorders. A university lecturer was about to throw them in the bin when a young student with an entrepreneurial streak spotted his chance.
"I just spray-painted them and did them up," says Mark Devlin, who literally pocketed the £400 proceeds before getting on a one-way flight bound for a new life in Japan.
Fast forward thirteen years and Devlin is checking the cover of the latest issue of a magazine he runs in down town Tokyo. A nearby computer screen displays an online service he believes will be the first to truly tell the world about Japan.
It's a long way from his first experience of a city that had never encountered Scottish bank notes. "When I first got here, the cash I got from the tape recorders was all I had," he says. "And half of it was Scottish notes. There was a bit of a scene at the bank. The staff had these big books out with all the world's currencies on them. But there was nothing Scottish. So I had to phone my girlfriend back home to tell her I could only use £200."
Mary McQueen-Molloy could have thrown the begging bowl back in her boyfriend's face, but instead chose to leave her job in London to join him for a holiday that is still not over. The seed for their love affair with Japan was sown in a university engineering course that pointed to the country as the god of all things mechanical. Japanese night classes followed. "Then one day one of the guys on the course said he was going there to teach English and I thought that was cool," says Devlin.
He also started out teaching before "blagging" a computer job which led to a more senior technology position at Jardine Fleming Securities. McQueen-Molloy, meanwhile worked as an IT consultant. But the nine-to-five lifestyle did not appeal, and when a man Devlin met in a club said he wanted to start an English language paper for classifieds adverts, the Scottish couple jumped on board. "If people wanted to get stuff in Tokyo, they had to find notice boards in places such as supermarkets," says Devlin. "And that was just a pain."
It was 1993, long before the arrival of the Internet, English language newspapers had not exploited the market and the only other English publication, Tokyo Journal, was monthly. The market seemed wide open.
And the enterprising gaijin soon discovered why. The Japanese were not familiar with the idea of classifieds. "There is no real second-hand market in Tokyo," says Devlin. "People just throw things away. I got my stereo from the side of the street, and it is a very good one." The idea of a free magazine also presented problems. "They kept asking us how we were going to make money."
The lifeline came in the form of expatriate community of more than 100,000. The first edition of Tokyo Classified was made up of adverts from shop notice boards printed on a four-page folded sheet of paper. The couple simply handed out copies in the street. It was a tough baptism. Six months in, with the company losing money, the founder announced he was quitting. But the Devlins, encouraged by the level of interest in a growing magazine, decided to fight on and bought him out.
From those humble beginnings, it has steadily grown to a glossy 64-page now distributed around Tokyo each Friday. Features, reviews and listings dominate a publication which, with an audited circulation of more than 30,000, has become one of the most prominent English language publications in Tokyo. These days it also goes under a different name, Metropolis.
"We changed it because people would be coming here and finding that the biggest English magazine was called the Tokyo Classified," explains Devlin. "That didn't say much about one of the world's most exciting cities. Metropolis gives a much better impression."
Metropolis is one arm of the couple's company, Crisscross, which employs about thirty staff. Replying purely on advertising income, Devlin says McQueen-Molloy, (36) from Uddingston in Lanarkshire, is the sales brain behind the magazine's success. While she pitches to advertisers, he takes a back seat role, sometimes checking the front-page picture, checking the weekly schedule.
The couple met on their first day at Strathclyde University. They have now been married for seven years. Their son, Aran, was born in Tokyo six months ago. Apparently comfortable and content in their adopted homeland, there are no plans to return home.
"I look up Scottish property websites about once every two weeks and I have a little dream of buying something there," says Devlin, who spent his childhood in Irvine in Ayrshire.
"But this place has a real energy. The last time I returned to Tokyo after a holiday in Scotland I was so happy to be back. Even in that short time, Tokyo had changed. I took a walk down the street and it seemed like new buildings had gone up. Scotland's a great place but there's a real energy here. And we've still got a bit of work to do."
His time and enthusiasm are reserved for an online venture launched just as the needle was thrust into the technology bubble in 2000. Japan Today, an online news service and business directory delivered in English, kicked off with a team of ten experienced journalists running the operation.
But, as confidence disappeared from the dot com sector, so too did investors. Today the project survives thanks to five angel investors who have stuck with the company. The operation still runs at a small loss but has been drastically slimmed down. Only two editors are required to operate a system that is almost fully automated. Annual company turnover is ¥300m (£1.5m), according to Devlin, with profit margins about 5%. Ambitions to raise those figures hinge largely on plans for the near future.
With a strong base of small and medium-sized advertisers, Crisscross is embarking on a concentrated push to entice more large companies. Devlin remains more than optimistic about the long-term prospects. Japan Today attracts more than 300,000 unique visitors each month using a business model Devlin says is more effective and cost-efficient than its predecessor.
He arrived in Japan just before the economy hit the floor a decade ago and believes that his company will grow stronger from the dot com clear-out. "The Japanese market is huge," he says. "Our research shows that there are over 10m people worldwide on the Internet who have an interest in Japan. That's a market we hope we can take full advantage of."